Rack 19
Alutron S.r.l. is specialized in the design, prototyping and serial production of advanced infrastructure and enclosures solutions for electronics, IT and Data-Center Applications. The range offered consists of Racks, Sub-Racks and Sub-Units and all relevant components and accessories for the housing of electronics devices in areas where high levels of Reliability are required: Railways and Naval Transportation, Telecommunications, Industrial Automation, Data-Centers. 
Over 40 years of experience in modular mechanics and the know-how and expertise of Alutron's Research and Development Department allow the production of standard mechanical components and ,above all, the realization of customized solutions aimed to satisfy specific Client's requirements. The complete management of robotics machinery and robots for different machining and assembly operations allows a high degree of flexibility combined with the efficiency of serial production.
In 2023 Alutron acquires Neohm Componenti, giving life to its Electronic Division.
Particular attention is paid to the materials used in natural anodised aluminum, aluminum with conductive surface treatment, painted steel RAL 7035. New materials are periodically tested to offer innovative solutions. 
Alutron implements ISO 9001: 2015 guidelines and applies Industry 4.0 concepts through machine monitoring, including robotic systems, and production processes integrated in the company's IT system to provide coninuous real time control by operators and management. The company's sales, technical and logistics teams provide technical advice and support aimed to identify and deliver the ideal solution to any customer need.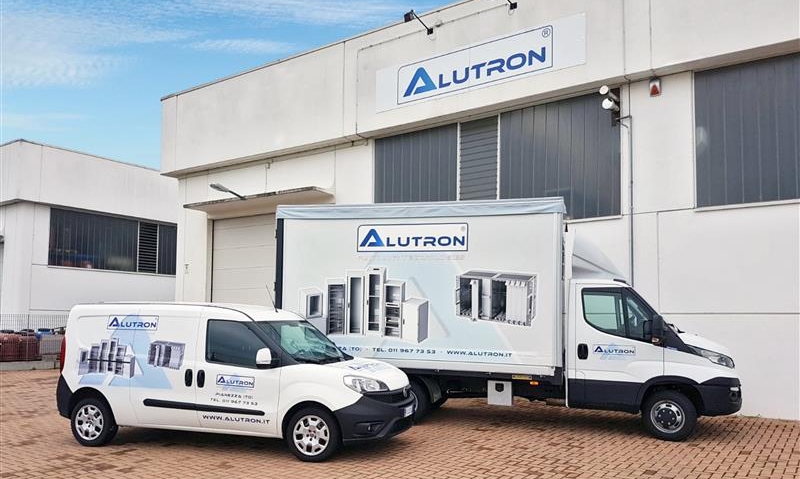 INTEGRATED POLICY FOR THE ENVIRONMENT AND SAFETY
ALUTRON S.r.l. has as a strategic objective the complete satisfaction of customers by designing and manufacturing reliable products that comply with mandatory requirements and, at the customer's request, using certified and innovative materials, making use of efficient production processes. The company management, to date, also considers it a fundamental need, in order to achieve the above, to implement an integrated environment and safety management system that completes the corporate organizational framework by adhering to the ISO 14001: 2015 and ISO 45001: 2018 standards
Alutron implements Industry 4.0 concepts by connecting its machines to the computer network. This is in order to constantly monitor production and increase the efficiency of all phases of the manufacturing and assembly process. Alutron has invested in robotics solutions for the assembly of slider guides. Here the extreme assembly accuracy is required to ensure the reliability of this support for the accommodated electronics boards over time. The ERICK robotic island performs this function. All data from robots and robotic islands are constantly monitored and analyzed for continuous improvement purposes.
Particular attention is paid to the production process at the final test and testing stage.
Alutron invested in the robotic system. The ERIET robotic island enables inspection via a digital video camera managed by the COMAU robotic arm. This is to dynamically adapt to the different types of products and accessories in the Alutron range.
Rack 19